The site will undergo maintenance between December 26 2023 and January 5, 2024.  The site may be intermittently unavailable at that time.
Say hello to your Europe ambassadors!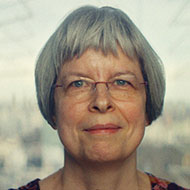 Angelika Steinacker - WiD ambassador for Western Europe and Germany
[In English] Hello, I am Angelika and I am the WiD ambassador for the DACH region (Germany, Austria, and Switzerland). We are now a group of more than 25 women in our DACH network who want to make identity inclusive, exchange ideas and discuss further steps to encourage women to get involved in STEM. We (virtually) meet every other month, and hope to have these meetings in person again. If you would like to join our group and help us achieve our goals, please feel free to reach out to me. / 
[Auf Deutsch] Hallo, ich bin Angelika und ich bin die WiD-Botschafterin für die DACH-Region (Deutschland, Österreich und Schweiz). Wir sind jetzt eine Gruppe von mehr als 25 Frauen in unserem DACH-Netzwerk, die Identität inklusiv machen, Ideen austauschen und weitere Schritte diskutieren wollen, um Frauen zu ermutigen, sich in MINT zu engagieren. Wir treffen uns (virtuell) jeden zweiten Monat und hoffen, diese Treffen auch wieder persönlich abzuhalten. Wenn du dich unserer Gruppe anschließen und uns helfen möchten, unsere Ziele zu erreichen, kannst du dich gerne an mich wenden.
>> View all Country Ambassadors